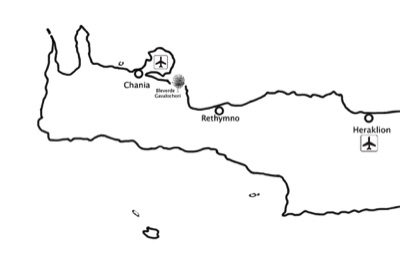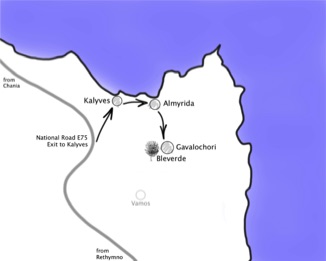 Bleverde is located far enough from traffic and tourist crowds but close enough to the village life of the picturesque Gavalochori. Set amidst olive groves and overlooking the silver green valley and distant sea, Bleverde is the ideal estate for tranquil and relaxing holidays even in the peak of the tourist season. Gavalochori village life is only a few minutes walk away.
Facts
Tavernas are 10 minutes walk from the estate.
Sandy beaches of Almyrida and Kalyves are about 10 minutes drive away (4-6 km).
The airport of Chania is 45 minutes and the airport of Heraklion 120 minutes by car.
Ryanair (Chania) from UK, France, Germany,Sweden, Netherlands, Belgium, Denmark, France, Italy, Cyprus, Lithuania
Norwegian (Chania, Heraklion) from Denmark Sweden, Norway, Finland
EasyJet (Chania and Heraklion) from UK, Switzerland, Italy, Germany
Transavia (Chania and Heraklion) from Netherlands, France
TUI (Chania) from Germany, Spain, Helsinki, Italy
AirBerlin (Chania) from Germany, UK, Austria
Condor (Chania and Heraklion)
Airlines
Numerous charter flights from around Europe reach Crete's international airports: Chania and Heraklion.