October 2014
It's THE place to spend relaxation time.
Great views, weather (apart from last night's thunderstorms), people in the village. We especially enjoyed being very private and only ten minutes walk from the village. We will definteley be coming back to Crete and to Bleverde.
Steve
UK
Villa Levanda guests
July 2014
This place was amazing and I hope we will come back soon!
I loved every aspect of it. It was a beautiful stay!
If it was for sale I would buy it on the spot!
Thank you from the bottom of our hearts for the warmest of greetings, helpful hints, the welcome basket which impressed us all, but not as much as the wonderful olive oil! We have been converted to olive oil for life.
Villa Levanda is a gorgeous house with nice gardens and pool and really think we will be back one day.
Mario and Pat
Canada
Villa Levanda guests
July 2014
Thank you for everything!
We would like to express all our sincere gratitude for the lovely short week we spent in Crete at Elia under your careful and tender supervision and very professional support of Peter and Anne.
These pleasant feelings as well as aromas of your fabulous garden and warm spirit of the villa will keep in our hearts during the cold winter. Looking forward desperately to come back to this small piece of Paradise to meet you again next summer time!
Anna and Nikolay
Russia
Villa Elia guests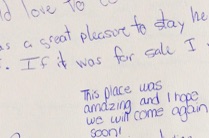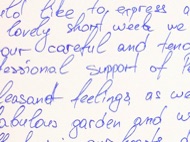 May 24, 2014
Thank you for an amazing restful stay in Villa Levanda - its idyllic!
The villa is stunning and we really don't want to leave...so much so after a weekend in Elounda we are returning to Bleverde in Villa Elia!
All of your kind emails packed with useful information on the area have been very much appreciated, along with all your care and and attention within the villa - its faultless!
It was lovely to meet Maria and thank you to Peter and Anne for a warm welcome.
Most of all we enjoyed the incredibly generous Cretan hospitality!
We will be back!
Neil and Julie
UK
Villa Levanda guests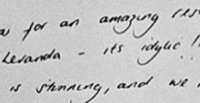 April 17, 2014
We had a wonderful time at Villa Elia and exploring Crete. Your hospitality and the friendliness of the local people made this holiday very enjoyable and memorable for us. We managed to swim in the pool in this early spring season :)
Fiona and family
Melbourne, Australia
Villa Elia guests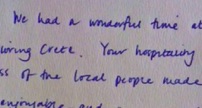 October 2014
Beautiful villa, fantastic location!
We had a superb, chilled experience and our story has come to a close all too quickly. We shall also miss our wondering chums, the goats - passing by the field beside the pool, the aromas of herbs and the birdsongs in the mornings.
We very much hope to be back before long!
John and Conac
Ireland
Villa Elia guests
March 2015
A great palce to be!
My husband and I spent a week at Villa Levanda and it was just wonderful. Maria met us at night in the center of Gavalochori and guided us to the villa. The house was preheated nicely - it was a cold night -, tastefully furnished, clean and a food-basket provided. The kitchen is well equipped. The terrace with pool, sunchairs, lounge sofa, table is surrounded by trees, bushes and herbs. There is no noise, except a dog barking once in a while. The view is gorgeous - over the green valley to the sea.
Orsolla
Switzerland
Villa Levanda guests

May 2015
What is there else to ask for?
It has been a lovely week filled with your generocity, kindness, care and beautiful surroundings. The oustanding meals at the house with the chef and at the tavernas. We loved your mum's cooking!!!!
Lots of inspiring painting, sunny, joyful ... What else is there to ask for?
Marianne and Karin
Sweden
Villa Elia guests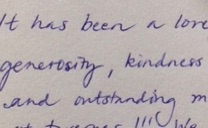 June 2015
Exceeded our expectations
Villa Levanda has exceeded our expectations! Beautifully furnished and very tasteful, provodong more than required in facilities.
We thank Maria for our welcom to the area and the villa, also for updated and information regarding the area.
A very big Thank you to Peter and Anne for keeping the villa beautifully fresh and clean!
Sue, Ed and family
UK
Villa Levanda guests

Aug 2015
My best bit!
Thank you for a lovely holiday in Crete. I hope we can stay again next year. My best bit here was swimming in the swimming pool
small Gabriel and Samuel and very small Elias
UK
Villa Levanda guests
Aug 2015
Emotion
C'est avec emotion que nous allons quitter Gavalochori. Nous avons apprecie ces 2 semaines et l' ambience de ce charmant village. Bleverde est un paradis entoure d'oliviers.
La Crete nous manque deja!!!
Sophie and Pascal
Switzerland
Villa Elia guests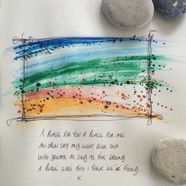 June 2016
A place for you
A place for you a place for me
An open sky and light blue sea
With dreams as solid as the ground
A place like this I think we have found.
Rosaleen and Richard
UK
Villa Levanda guests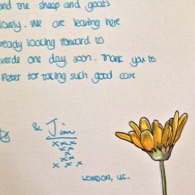 May 2016
Rest and relax!
We had a really wonderful time. Bleverde is an absolutely beautiful place to stay - perfect for rest and relaxation.
It has been a good week for my sketching too! I had lots of time to draw and the surroundings have been really inspiring. While I have been drawing, painting and tracing photographs, Jim had a lot of fun inspecting insects and plants at the gardens. Waking up every morning to such a beautiful view, along with the sounds of the birds and the sheep and goat bells has been lovely. We are leaving here restored and already looking forward to coming back soon. Thank you Maria, Peter and Anne for taking such a good care of us!
Cathryn and Jim
UK
Villa Levanda guests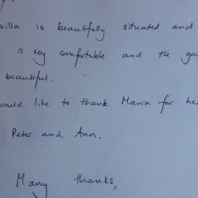 May 2016
Perfect spot!
We came to Crete for peace and relaxation and found the perfect spot! We enjoyed eating at the tavernas at the village and meeting the friendly people. The villa is beautifully situated and well equiped the bed is very comfortable and the pool and grdens beautiful. Thank you Maria for your advise and Peter and Anne!
Roger and Jane
UK
Villa Elia guests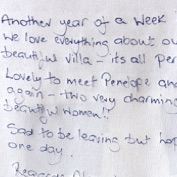 June 2016
Another fabulous stay!
Another year of a week in pardise!
We love everything about our stay in this beautiful villa - its all perfection.
Sad to be leaving but hope we will be back one day.
Alan and Jane
Villa Elia repeated guests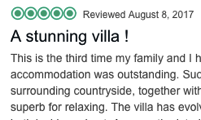 August 2017
A stunning Villa!
This is the third time my family and I have stayed at Villa Levanda and once again the accommodation was outstanding. Such a beautiful setting, with panoramic views of the surrounding countryside, together with the wonderful aromas of lavender, the whole vicinity is superb for relaxing. The villa has evolved majestically over the years we have stayed there, both inside and out. As ever, the interior is cool and stylish with glimpses of the magical views everywhere you turn. Outside is just a delight too, either by the stunning swimming pool or on one of the numerous balconies, where we often did yoga or "headspace"; there is no where better to enhance your well being ! We fully appreciated the seclusion and privacy the villa offers and it almost goes without saying that it was spotlessly clean.
Despite its remoteness, we loved the fact that you can walk in 10 minutes to the authentic Greek village of Gavalochori from the villa and enjoy a super meal at one of the village's Tavernas.
We were hosted so warmly by the owners, who made us feel so special. They genuinely care about you and your holiday and nothing was ever too much trouble for them.
So another fabulous family holiday in the luxurious Villa Levanda and we will return for sure.
Tony & Alison
Villa Levanda repeated guests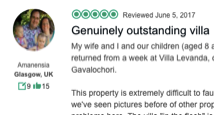 June 2017
My wife and I and our children (aged 8 and 6) and our friends, another couple, have just returned from a week at Villa Levanda, one of the two villas on the Bleverde estate in Gavalochori.
This property is extremely difficult to fault. The pictures on their website look impressive, but we've seen pictures before of other properties that have flattered to deceive. No such problems here. The villa "in the flesh" is even better. The top floor, which is the main entrance, consists of an extremely large open-plan kitchen an living room; it's significantly more spacious than I was expecting. There's a fantastic north-facing balcony for fresh air and a cooling breeze, and a terrace leading to the swimming pool, which was the obvious spot when eating in.
The pool area is immaculate, and again the pool is larger than it may appear in some pictures. The quality of the outdoor furnishings is outstanding.
For cooks, the kitchen has plenty of prep space, a very modern four-ring electric halogen hob, a large fan oven and a secondary convection/microwave oven, both built-in. There's a good size fridge and proper freezer, and in a small utility room is a washing machine and separate dryer.
Both main bedroom suites are brilliantly spacious, with top-quality en-suites (only the middle floor has a bath but the showers are excellent), and stay naturally very cool. Both also have balconies/terraces, and the lower suite also has its own small lounge. On the same floor as this suite is a smaller bedroom which is perfect for children; ours shared this very happily. This room is plenty spacious enough for them to play in when the outdoor heat gets a little too much, although their toys and drawing materials swiftly overtook the lower floor lounge as well! This bedroom also benefits from a separate en-suite shower room.
I've stayed in a fair few villas and generally compromises have to be made - but not here. If I tried to search around for any negatives the most I could come up with would be that in my ideal world there would be a built-in barbecue (although there's a perfectly effective Weber kettle barbecue), and that the road up from the gates can be a bit rattly on the car's suspension. If that's the most I can come up with then this place must be amazing - and it is. The best villa I've ever stayed in, bar none.
Villa Levanda guests
April 2018
Breath-taking. Perfect. The ideal villa.
Villa Levanda, part of the Bleverde Estate, is a place that inspires superlatives. Set on a hillside overlooking a sweeping green valley, with the azure sea gleaming in the distance, it is a gorgeous natural setting, with olive groves, fragrant herbs and laden lemon trees gently scenting the warm air and stunning views from every window and terrace. The villa itself is a haven of peace and airy modern elegance - the owners, Penelope and Danny, are artists and have an eye for a clean line and a striking splash of art, while also providing everything you could wish for to make your holiday perfect. It's ideally equipped from kitchen to yoga mats to a fully stocked library, and you could spend days holed up here, splashing in the turquoise pool, eating the local produce and counting your blessings. You don't have to go far afield to enjoy the delights of Crete though - despite the feeling of perfect rural isolation, it's less than a 10 minute walk to the local village, where you can enjoy delicious food at the local tavernas (the cheese pies and Moussaka at Arismari being my favourite). Ideally located 45 mins from the airport and the lovely port of Chania, this may well be the perfect destination. Like so many others, we'll definitely be going back.
Abbi and husband
UK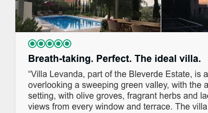 July 2018
Absolutely stunning villa
We had an amazing holiday at Belverde. Every detail is thought of in this stunning villa and the town itself is gorgeous - a small town where you feel like you "come home" each night to dine at a local taverna after a day exploring Crete.
Dubai